Exclusive:
Shop Amazon - Music Gifts for Father's Day
8-hours-awaiting exam system
Yesterday i came to my university(University Of Milan) to take my oral exam of College English 1.I have already realized the numbers of examinees based on the written exam taken on 12th May.I had a vague memory over my registration number which seems to show the 147th among all the examinees.I had took some exams before so already encountered the essence of exam system.Especially experienced this oral exam of English i would like to label the essence as"8-hours-awaiting exam system". 8 hours is metaphor to describe how slack the exam system is but i spent more than 8 hours awaiting my turn to take exam.I do not wanna describe the process during exam-awaiting,because it was boring,pointless,and time-waste.Every examinee should admire the professors more than ever because we examinees are not the only ones enduring those hardships but also the professors.They question and test examinees turn by turn,one by one,full of professionalism.I wanna appeal to University Of Milan to reform its exam system into a Convenient and quick one which will make all the examinees and professors more relaxing and comfortable before the coming of exam but not fatigues and stresses.
Blogging does bring benefits
Last evening i received an e-mail says that a brand which sells men garments asks me to write an issue about their garments for the special father`s day.In fact,they won`t pay me for writing this issue,but i am thinking this is a great cooperation so i decided to finish this issue without asking any financial benefits but ask for them spreading my website.My blog is still young under two years,this is first time my blog get a cooperation from industry i think it proves a lot,especially my excellent article writings which is the main reason why they ask me to write a post.If they are satisfied with my writing i believe more cooperation will be provided.By then,some financial benefits is just a matter of course.
Pick Of Today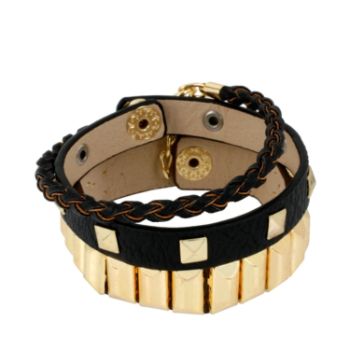 Mixed Bracelet Set The power of three! This mixed set from Steve Madden features two faux leather snap bracelets and a woven bracelet set in gold-tone mixed metal. • Black faux leather snap bracelet • Gold tone pyramid-shaped studs • Black braided woven bracelet • Brown faux leather snap bracelet • Gold tone bead accents • Set includes 3 bracelets • Snap/lobster claw • Polyurethane/metal • Snap bracelets: 7"; wove
bi