Label: Elin Kling
,
Fashion bloggers
,
Fashion culture diary blog
,
Fashion Industry
,
Web design
Forewords

-
March has passed silently with so much events.Love,exciting,inspiration.There are so many disasters of course, but i always and should put my focus on all the good things because i know all the good things will come to the end.I always recall somethings happened in the past which i can not helping aftertasting over and over again.Consideration of all the reasons above i am planing on writing a post of "March Items".Frankly, in March,there are so many item to be remembered and so items wowed me so i can only show you some of them on my blog.Hoping my "March Items" will inspiredyou.
The Wall/Elin Kling
-This is a new version of Elin`s website,and if you are a fans of Elin or take a notice you will know that Elin always redesigns her website.I am a big fans of Elin since the day one i subscribe her website.I love the atmosphere of her web which is the key of web design.This new Wall of Elin Kling is dynamic-modern,you can subscribe her new wall by clicking
here
Bloggers Friendship
-Someone said that fashion bloggers are like colorful peacocks,and they are some blogger friendships between those bloggers.Rumi Neely and Bryanboy,i take this pair of blogger friends as my example because they are the most closed and most honest blogger friends in this fashion bloggers industry,am i right? They both come from Asia and have strong fame in fashion industry.Sometimes i always imagine that one day i will the a blogger friend or friends that we can hanging out together,cooperate together,help each other just like the way Rumi neely and Bryanboy do.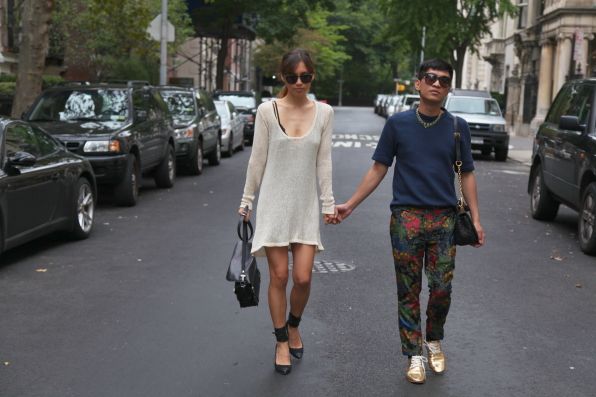 My Men Of March
-This item is very personal,you know you must have your dream man or dream woman,so me too,the two men above are my men of this month.If they know you must feel proud of this achievement.The first one is Mariano,Italian male fashion blogger,and the second one is Justin, a younger lifestyle blogger from New York.I love them so much and i believe one day they will love me.
*Written&Edited By Royal Wang
*Contact :royalwang198958@gmail.com