The most invisible , anxious awaiting - Emails waiting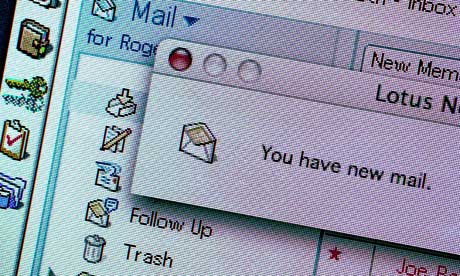 The situation is similar to when you are receiving a call not from the one you keep waiting for . Emails awaiting , goes more
frustrated .
Long story short , assuming you are going to send some emails to five people , five email addresses-check , five receivers-check, email content-check ...and ~ sending .... Ok , the next step is waiting your inbox declares the new coming emails .
Buzzing ~ (assuming email system rings),oh , it writes : Hi , dear ... we are an online shopping store where you can ... , interested in shopping , but not the right time baby . You can still hold your p
atience , maybe 2 hours later , you thinking it is time for the right one coming , then buzzing ~ fuck , it is the one enlists some global news , reading is great but still not welcome this moment . You get a little bit anxious checking out it has been half a day since your 5 emails left home and the guests still did not show themselves . Someone maybe lost confidence waiting , some others still Stick to their positions , what they are expected to receive are universally important .
This hypothesis (Paragraph above) has been there , everyone`s there . I sent 5 emails to 5 fashion stylists , then luckily , the second day i got one reply , the other four are still playing Hide and seek . The worst email-reply so far was the one went to my email inbox yesterday , but you should know the date i sent my email can be rated back to last year .
No worst , but more worse ones , i believe tons of readers could feel the same . We all know there are varying reasons why people did not reply our emails , why they
postponed to reply , the best is you get your satisfied reply , the process of waiting is wealthy a little bit , otherwise the email waiting , the process , the i
rritability , the d
ejection , its killing the positive thought when you are sending an email to an important person , hoping that your email could get their attentions .
Yeah , i am waiting , still in the process of waiting an email or emails . I hate it .
Shopping , No Waiting